Guided Insights as a Service is Zenylitics' fully managed service that fuses advances in speech analytics with the people services to overcome the practical challenges that come with adapting an innovative technology.
Guided Insights as a Service eliminates execution risk by fusing advances in AI-enabled speech analytics with the human talent to ensure you find the insights and queue up needed actions.
'Human talent' refers to Zenylitics' team of dedicated speech analytics and data specialists who help drive your digital transformation efforts. This saves you the staffing, capital expense and the unnecessary effort that otherwise accompanies the licensing of powerful enterprise software tools.
Why Consider Outsourcing Your Speech Analytics?
Core to the Guided Insights offering is a dedicated, specialized team of data analysis experts to analyze data from your CallMiner speech analytics. For customers that don't already have their own CallMiner license, we add our own Enterprise instance of CallMiner, scaled to process thousands of omnichannel interactions every day.
Why not just license the speech analytics tool directly and hire people to use it?
Experienced speech analytics experts are scarce
Data analysis experts – especially those that understand call center analytics — are hard to hire.
Speech analysts and analytics experts are difficult to retain.
Skilled analytics staff often has a huge backlog.
Managing speech analytics initiatives takes practice. CallMiner is capable of generating so much data, it can be a challenge to prioritize effort on the areas that actually deliver value. A recent survey by Accenture revealed that "81% of organizations lack an enterprise data strategy to fully capitalize on their data assets."
We have all seen too often executives that fight for a new technology, only to fail because of insufficient people resources, lack of focused attention or process change. Value-generation relies as much on 'people' and 'process' as it does 'technology.'  Zenylitics' can take on missing roles to ensure your initiative gets off on the right foot.
TEAM + TOOL = VALUE GENERATION
The Zenylitics team has years of experience working with companies of all sizes to analyze their call and omnichannel data to provide insights to provide a turnkey team.  And if your in-house team simply has too much to do, Zenylitics can work alongside them to augment their efforts.
The Benefits of Guided Insights as a Service by Zenylitics
Here five reasons to use Zenylitics' Guided Insights as a Service:
Faster Time to Value
If you're a new CallMiner customer, our service kickstarts your initiatives and gets programs generating ROI faster. Don't have CallMiner yet? We offer CallMiner processing on a 'pay as you go' basis – eliminating capital investments and ensuring you only pay for what you use.
Decreased Burden on In-House Resources
When your team has too much work, progress bogs down. Zenylitics reduces that obstacle and provides focused accountability for the particular business problem that is keeping you up at night.
Scale Up / Scale Down
Guided Insights ramps up your ability to punch through when you need it — and save money by scaling down on costs when you do not. No onerous long-term contracts or commitments to outsized volume you may not use.
More Analysis Per Investment Dollar
We supplement CallMiner's powerful machine learning analytics with our own proprietary IP. Many customers have us integrate our insight kpi's into their CRM or BI repository. This ensures you get every ounce of analytics value for your investment.
Less Time Managing
To make your oversight effort as efficient as possible, we provide Visual CoreMetricsTM. Visual CoreMetrics renders a personalized video that summarizes your key performance indicators. When all is well, you invest 90 seconds to 'status' how things are going. When something goes south, your personalized video calls it out and let's you click through to see the supporting detail.
Zenylitics can also take the ball to drive initiatives and help organizations better hold themselves accountable for results.
Use Cases
Here are examples of the analysis we have done for common use cases:
Sales Improvement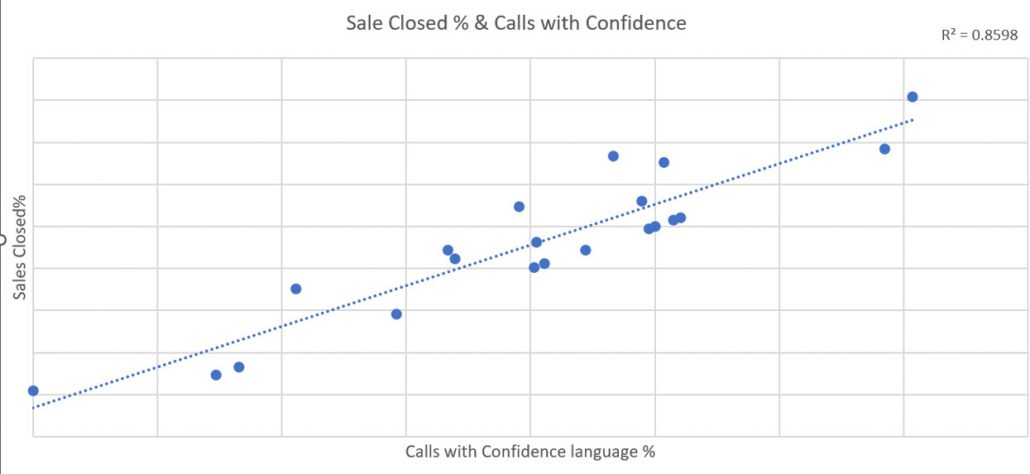 CX / Call Driver Discovery and Analysis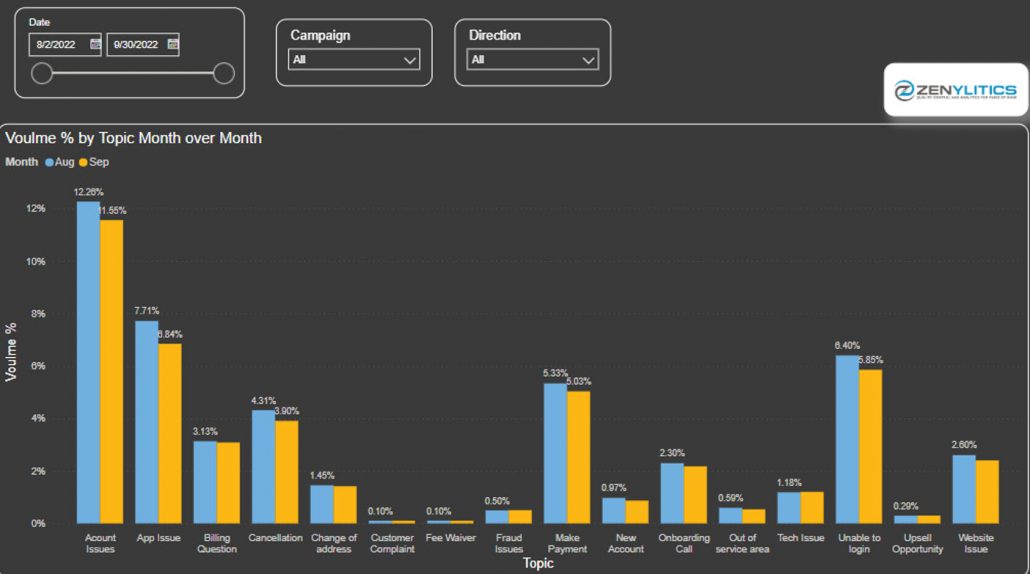 Collections / Revenue Recovery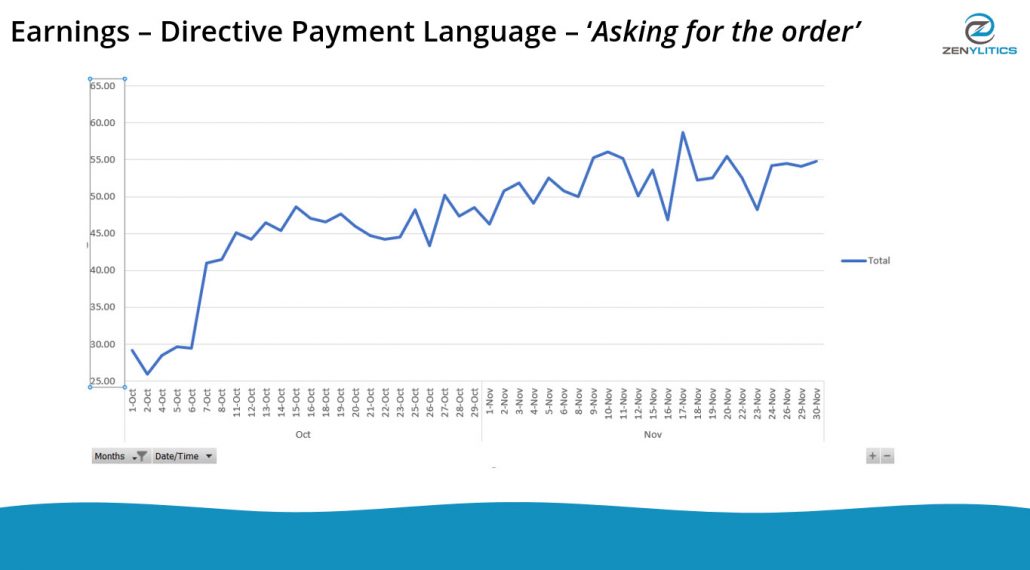 Customer Service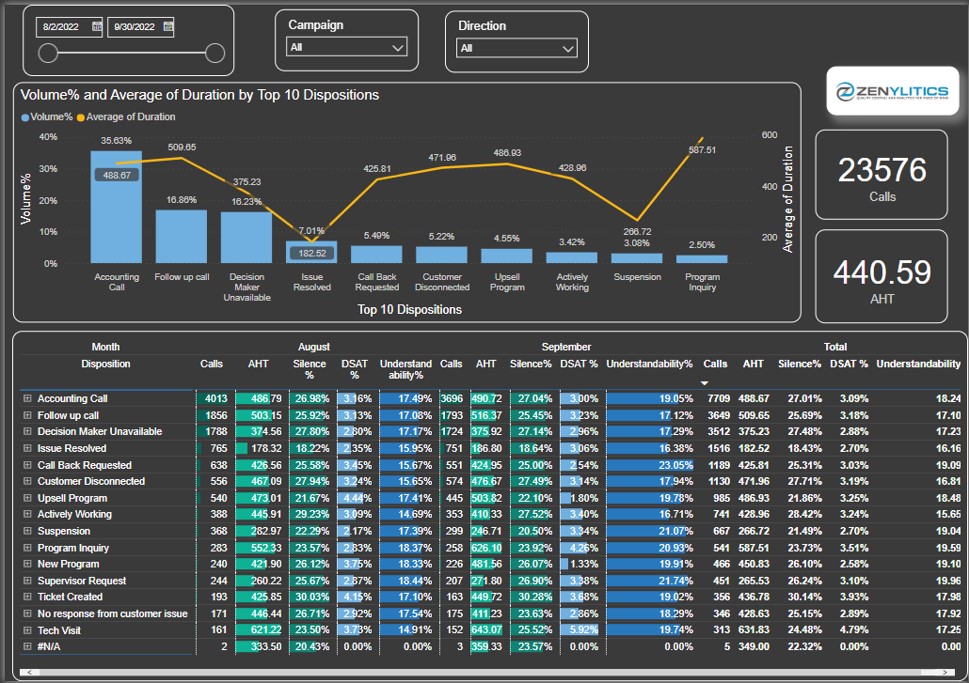 Interested in Guided Insights as a Service?
Let's discuss your interest and review how Zenylitics' can bring the world of AI-enabled omnichannel speech analytics to your business – quickly and cost-effectively.