CALLMINER EUREKA SPEECH ANALYTICS CONSULTING
CallMiner Eureka Speech Analytics Consulting Reduce Time to ROI.
Many of our CallMiner Eureka clients have already started on their journey with speech analytics at the enterprise level. Our experienced team can reduce your time to ROI, whether at the program level or in support of project initiatives. Our services include:
Program Management

: Oversee CallMiner Eureka program initiatives. 

Turnkey Solutions

Build scorecards and dashboards. Build or customize existing programs for new customers. 

Analyst resources.

Leverage our expertise to assist with design, requirements, training, or on-demand consulting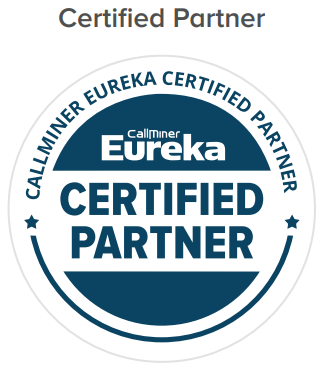 Speech Analytics Program Management
What if you have never run a successful speech analytics program before? Having a seasoned advisor or program leader can set you up for success by getting your CallMiner project off on the right foot. Our program leadership has delivered many successful speech analytics projects. Avoid false starts that put your program at risk. Our program leaders work with your staff to ensure your goals are achieved.
You know "what" you want to achieve with speech analytics. Our team will lead you through the "how." Talk to us about making your CallMiner Eureka speech analytics program successful.
CallMiner Project Initiatives
Perhaps your compliance is already demonstrating success. You see the opportunity to increase sales effectiveness or to improve your customer experience. We can accelerate your ROI by building those new use cases quickly and efficiently.
For 3PL's using CallMiner with their own OEM customers, bringing on new clients doesn't have to be held up by internal resource constraints. Stop slowing down sales by letting us become your onboarding partner. Learn how our experienced program management and project team can onboard your new customers in as little as 30 days.
Is your CallMiner speech analytics team having a tough time getting over that learning curve?
We can assist. Our analysts can capture your requirements and deliver to your specifications as needed. Zenylitics can be that quick-hitter partner that gets you over the hump in your CallMiner Eureka journey.